Weedwood Shield

Type
Equipment
Speed
N/A
Damage
N/A
Durability
160
Renewable
Yes
Stackable
No
Compostable
No
ID
weedwood_shield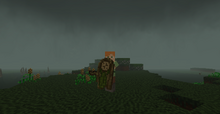 The Weedwood Shield is a basic Betweenlands shield.
Blocking
Edit
Like any shield, the Weedwood Shield can be held up to block melee and ranged attacks from the front. It can be temporarily disabled by an axe attack.
The Weedwood Shield has the unique ability to negate any fire damage that a blocked attack may have dealt onto the player. However, it will instead catch the shield itself on fire, draining its durability greatly over time for a few seconds.
Repairing
Edit
Like most other equipment with durability, a damaged Weedwood Shield can be repaired to full durability through an Animator. The more that needs to be repaired, the greater the cost of fuel and crystal charge is in the animation process.
| Result | Ingredients | Recipe |
| --- | --- | --- |
| Fully repairs Weedwood Shield | Damaged Weedwood Shield + Sulfur (3-6) + Life Crystal (4-13% charge) | |
Corrosion & Middle Gems
Edit
The Weedwood Shield does not corrode, nor can it be applied with Middle Gems.
Alpha 3.2.0: Can now be fully repaired in an Animator.
Alpha 3.0.0:

Damage reduction increased to 100%.
Can no longer be crafted with normal Weedwood.

Beta 2.0.0: Introduced.