Valonite Shield

Type
Equipment
Speed
N/A
Damage
5 ()
Durability
5000
Renewable
No
Stackable
No
Compostable
No
ID
valonite_shield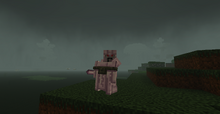 The Valonite Shield is a special Betweenlands shield.
Blocking
Edit
Like any shield, the Valonite Shield can be held up to block melee and ranged attacks from the front. It can be temporarily disabled by an axe attack.
The Valonite Shield has the unique ability to reflect a small portion of the initial damage an attacker deals back upon them while blocking. In the case of certain projectiles, it can completely reflect them, causing them to be fired back at the same velocity towards their source.
The Valonite Shield also uniquely grants the player the ability to charge into their enemies by holding down shift while blocking with it, then letting go of shift. The player will speed forward, dealing damage to any mobs that they contact from the front and knocking them back greatly. The longer the shield is charged before releasing, the further the player will charge before stopping, up to a maximum of 2 seconds. Note that doing this causes the player to consume hunger at a much faster than usual rate.
Repairing
Edit
Like most other equipment with durability, a damaged Valonite Shield can be repaired to full durability through an Animator. The more that needs to be repaired, the greater the cost of fuel and crystal charge is in the animation process.
| Result | Ingredients | Recipe |
| --- | --- | --- |
| Fully repairs Valonite Shield | Damaged Valonite Shield + Sulfur (7-16) + Life Crystal (12-36% charge) | |
Corrosion & Middle Gems
Edit
The Valonite Shield does not corrode, nor can it be applied with Middle Gems.
Alpha 3.2.0: Can now be fully repaired in an Animator.
Alpha 3.0.0: Now has the ability to charge the player into enemies and reflect damage and projectiles.
Beta 2.0.0: Introduced.