Trapdoors

Transparency
No
Luminance
No
Blast Resistance
Tool
Wood-based:none
Syrmorite:Any Pickaxe
Renewable
Wood-based:Yes
Syrmorite:No
Stackable
Yes (64)
Flammable
No
Compostable
No
ID
The Betweenlands mod adds a couple new trapdoors to the game. They function identically to vanilla counterparts, being 1x1 vertically opening doors.
The Syrmorite Trapdoor can only be opened or closed with redstone activation.
Weedwood Trapdoor
Rubber Tree Plank Trapdoor
Syrmorite Trapdoor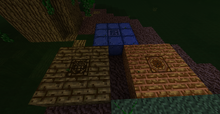 6 base material = 2 trapdoors