Syrmorite Ore

Transparency
No
Luminance
No
Blast Resistance
30.0
Tool
Bone Pickaxe
or better
Renewable
No
Stackable
Yes (64)
Flammable
No
Compostable
No
ID
syrmorite_ore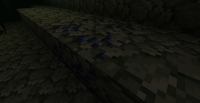 Syrmorite Ore is an ore that spawns uncommonly underground in the upper Cavern layer, within Betweenstone.
The name of the ore is a reference to a YouTuber known as Syrmor, who was the first youtuber to do a Let's Play of the mod (Early Alpha version).
Syrmorite was originally called Blurite, as the developers quickly needed a name, and the ore was blue. Coincidentally, it also happened to be the name of an ore in the game Runescape.
Alpha 3.2.0: Decreased generation rate.
Beta 1.0.0: Introduced.