Not to be confused with Stagnant Water, a less common variety of water found in Lake Caverns.
Swamp Water

Transparency
Yes
Luminance
No
Blast Resistance
500.0
Tool
N/A
Renewable
No
Stackable
Yes (64)
Flammable
No
Compostable
No
ID
swamp_water
bl_bucket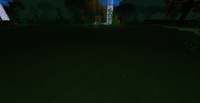 Swamp Water is the primary water liquid of The Betweenlands. It generates in vast quantities in Deep Waters, Coarse Islands, and Patchy Islands biomes, and in smaller quantities in Marsh, Swamplands, and Sludge Plains biomes. It also generates underground in Lake Caverns below a certain layer.
Coloration
Edit
Swamp Water takes on different water colors depending on what biome it is located in.
Particles
Edit
Small particles resembling fish will occasionally swim in Swamp Water.
Swamp Water acts similarly to vanilla Water, flowing at the same speed and capable of creating infinite source blocks.
Drowning
Edit
Swamp Water will begin drowning players and mobs that are completely submerged in it, after draining their breath meter. It deals 2 damage (

) per drowning tick.
Water Plants
Edit
Swamp Water supports the placement and/or growth of certain water-based plants under the right conditions, such as Swamp Reeds, Swamp Kelp, Water Weeds, Bog Beans, Golden Clubs, Marsh Marigolds, Mire Coral, Deep Water Coral, and Bladderworts.
Upon contacting Tar, Swamp Water will form Solid Tar.
Collection
Edit
Swamp Water can be collected with a Weedwood or Syrmorite Bucket.
Purifier
Edit
When collected in a Bucket, Swamp Water can be used to fill the Purifier, which is required in order to purify items. One Purifier can be filled with up to four Buckets worth of water, and consumes one Bucket worth per four purified items.
During the Winter event, the surface of Swamp Water will slowly freeze over from land edges, turning into Black Ice. When the event ends, this Black Ice will eventually melt back into Swamp Water. Swamp Water is also left behind when Black Ice is broken.
WaterAmbience:
Alpha 3.1.0:

Now freezes over during the Winter event.
Now created from broken or melted Black Ice.

Beta 2.0.0: Added Syrmorite Bucket variation.
Beta 1.0.0: Introduced.