Swamp Kelp

Transparency
Yes
Luminance
No
Blast Resistance
500.0
Tool
None
Renewable
Yes
Stackable
Yes (64)
Flammable
No
Compostable
Yes
ID
swamp_kelp
swamp_kelp_item
items_crushed/43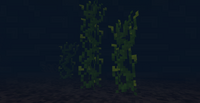 Swamp Kelp is a water plant that generates in Coarse Islands and Deep Waters biomes.
Placement
Edit
Swamp Kelp can be placed on plant-supporting blocks that are in Swamp Water, as well as directly above itself under the same conditions. Breaking a lower part of a Swamp Kelp growth will break all parts above it as well.
Particles
Edit
Small particles resembling water bugs will occasionally swim around Swamp Kelp.
Swamp Kelp will naturally grow upwards, and will grow infinitely up to the surface of the water, where it will stop growing.
Collection
Edit
When harvested, Swamp Kelp drops a Swamp Kelp (item), which can then be fried, ground into Ground Swamp Kelp, or be used to replant the actual block.
Swamp Kelp itself cannot be collected.
Compostability
Edit
Swamp Kelp has a compost process time of 4 minutes and 10 seconds and a compost amount of 3. Visit the Compost page for more information regarding the composting mechanic.