Swamp Grass

Transparency
No
Luminance
No
Blast Resistance
0
Tool
Hand/Shovel
Renewable
No
Stackable
Yes (64)
Flammable
No
Compostable
No
ID
Swamp Grass is the native grass of the Betweenlands, spawning primarily in Coarse Islands, Patchy Islands, and Marsh biomes as well as in Underground Oases. It acts like vanilla Grass, taking on different foliage colors depending on the biome it is located in, spreading to nearby Swamp Dirt (whether dug or not) and supporting plant growth. It can be turned into Dug Swamp Grass by right-clicking it with a Betweenlands shovel.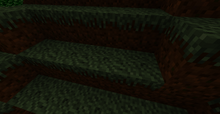 Beta 2.0.0: Now takes on different colors in different biomes.

Now spreads to dug blocks, including purified ones.
Can now be found in Underground Oases.

Beta 1.0.0: Introduced.