Sulfur Ore

Transparency
No
Luminance
No
Blast Resistance
30.0
Tool
Any Pickaxe
Renewable
No
Stackable
Yes (64)
Flammable
No
Compostable
No
ID
sulfur_ore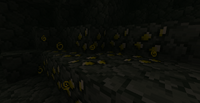 Sulfur Ore is an ore that spawns commonly underground in the upper Cavern layer, within Betweenstone.
Particles
Edit
Small yellow fume particles will constantly emanate from Sulfur Ore.
Collection
Edit
Sulfur Ore drops Sulfur and 0-2 experience when harvested. Sulfur can be used as a fuel source for various utilities.
Sulfur Ore itself must be harvested with a Silk Touch tool to be collected.