Sulfur Furnace

Transparency
No
Luminance
No,Yes(when lit)
Blast Resistance
Tool
Any Pickaxe
Renewable
No
Stackable
Yes (64)
Flammable
No
Compostable
No
ID
sulfur_furnace
The Sulfur Furnace is a machine akin to a Betweenlands version of a vanilla furnace. The Sulfur Furnace accepts fuel and burnable items to process these items into something more useful.
The Sulfur Furnace can optionally accept Limestone Flux in an additional far left slot of its GUI, which gives smelting Octine Ore and Syrmorite Ore a chance to yield two ingots rather than just one.
Surrounding the Sulfur Furnace in Betweenstone will allow the player to upgrade the furnace to a Dual Sulfur Furnace, which can smelt two items simultaneously.
Visit the Smelting page for all smelting recipes added to the mod.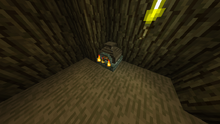 Beta 2.0.0: Has a new model.
Beta 1.0.0: Introduced.