Not to be confused with the Life Crystal Stalactite, a similar block that generates underwater in Lake Caverns.
Stalactite

Transparency
Yes
Luminance
No
Blast Resistance
30.0
Tool
Any Pickaxe
Renewable
No
Stackable
Yes (64)
Flammable
No
Compostable
No
ID
stalactite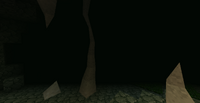 Stalactites are unique twisting stone blocks that generate underground in Caverns. They can also be found as part of Underground Oases.
Placement
Edit
Placed Stalactites connect vertically with each other, forming elongated stalactite or stalagmite formations that grow smaller the further they are to the tip.
Collection
Edit
Stalactites drop nothing when harvested. The blocks themselves cannot be collected in any way.
Beta 2.0.0:

Renamed to Stalactite.
Now generates in Underground Oases.

Beta 1.0.0: Introduced as Stalactite Block.