Not to be confused with Roofs, similar blocks with smooth slopes.
Stairs

Transparency
Partial
Luminance
No
Blast Resistance
Wooden: 15.0
Limestone: 24.0
All Others: 30.0
Tool
Wooden:
Hand or Axe
All Others: Any Pickaxe
Renewable
Varies
Stackable
Yes (64)
Flammable
No
Compostable
No
ID
See Types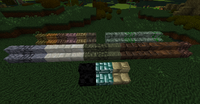 Stairs in the Betweenlands act functionally the same as vanilla stairs.
This is the list of Stairs available, their IDs, and any additional sources they may have to being crafted:
Weedwood Plank, Rubber Tree Plank, and Giant Root Plank Stairs can be used as fuel for the Sulfur Furnace or Dual Sulfur Furnace, smelting 1.5 items per slab block.
Release 3.3.0: Added Giant Root Plank Stairs.
Beta 2.0.3: Added Cragrock and Pitstone Stairs.
Beta 2.0.2: Added Betweenstone Stairs.
Beta 2.0.1: Implemented recipe for Polished Limestone Stairs.
Beta 2.0.0: Added unobtainable Polished Limestone Stairs.
Beta 1.0.0: Introduced.