Slimy Bone Ore

Transparency
No
Luminance
No
Blast Resistance
30.0
Tool
Any Pickaxe
Renewable
No
Stackable
Yes (64)
Flammable
No
Compostable
No
ID
slimy_bone_ore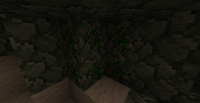 Slimy Bone Ore is an ore that spawns relatively commonly underground in the upper Cavern layer, within Betweenstone.
Collection
Edit
Slimy Bone Ore drops a Slimy Bone and 1-4 experience when harvested. Slimy Bones can be used to make basic equipment.
Slimy Bone Ore itself must be harvested with a Silk Touch tool to be collected.