Skull Mask

Type
Equipment
Armor Toughness
0
Armor
2 ()
Durability
66
Renewable
No
Stackable
No
Compostable
No
ID
skull_mask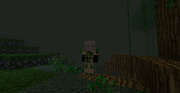 The Skull Mask is a unique piece of armor that can be found as treasure from animating Item Scrolls. It can also be found as Loot from chests in Shrines, Cragrock Towers, and the Wight Fortress.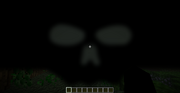 When worn, the Skull Mask provides 2 armor points, or 1 armor icon, and absorbs 8% of damage from the player at the expense of durability. It has a unique overlay over the player's first-person vision when worn, similar to the effect of wearing a Pumpkin. Wights will not be able to use their 'possession' attack on any player that is wearing the mask, making them easier to deal with.
Repairing
Edit
Like most other equipment with durability, a damaged Skull Mask can be repaired to full durability through an Animator.
Middle Gems
Edit
As with most equipment, the Skull Mask can be equipped with Middle Gems as part of the Middle Gem Circle to apply additional buffs to the player using it. The type of gem equipped can be seen in its tooltip. The bonuses provided can be seen on the gem's own tooltip.
| Result | Ingredients | Recipe |
| --- | --- | --- |
| Applies corresponding Middle Gem to Skull Mask | Skull Mask + Any Middle Gem | |
Alpha 3.2.0: Can now be fully repaired in an Animator.
Beta 1.0.0: Introduced.