Shoots

Transparency
Yes
Luminance
No
Blast Resistance
0.0
Tool
None
Renewable
Yes
Stackable
Yes (64)
Flammable
No
Compostable
Yes
ID
shoots
items_plant_drop/24
items_crushed/3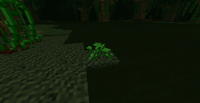 Shoots are plants that generate in Patchy Islands biomes. They can also be sprouted from Swamp Grass using Ground Dried Swamp Reed.
Collection
Edit
Shoots must be harvested with Syrmorite Shears to be collected. When harvested with a Sickle, they instead drop a Shoots (item), which can then be ground into Ground Shoots.
Shoots will grow to adjacent plant-supporting blocks when on top of composted Dug Swamp Dirt, Dug Swamp Grass, Dug Purified Swamp Dirt, or Dug Purified Swamp Grass. However, their growth will halt if the composted block they are growing on becomes decayed, or if its compost is depleted after enough harvests.
Shoots can be placed decoratively inside of Mud Brick Flower Pots with a right-click. They can then be taken out by right-clicking the pot again.
Compostability
Edit
Shoots have a compost process time of 6 minutes and 40 seconds and a compost amount of 5. Visit the Compost page for more information regarding the composting mechanic.
Beta 2.0.0: Can now be grown and farmed with composted blocks.
Beta 1.0.0: Introduced.