Shelf Fungus

Transparency
No
Luminance
No
Blast Resistance
1.0
Tool
Hand or Axe
Renewable
No
Stackable
Yes (64)
Flammable
No
Compostable
No
ID
shelf_fungus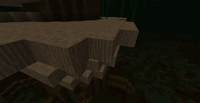 Shelf Fungus is a fungus block that generates in ring-like shapes around Giant Weedwood Trees and Giant Roots.
Spawning
Edit
Shelf Fungus supports the spawning of Sporelings in The Betweenlands.
Shelf Fungus can be used as fuel for the Sulfur Furnace or Dual Sulfur Furnace, smelting 1.5 items per fungus block.
Placed Shelf Fungus will take on alternative textures during the Spook and Winter seasonal events.
Release 3.3.0: Now generates on Giant Roots.
Alpha 3.1.0: Now has an alternative texture for the Winter event.
Beta 1.0.0: Introduced.