Scabyst Ore

Transparency
No
Luminance
No
Blast Resistance
30.0
Tool
Octine Pickaxe
or better
Renewable
No
Stackable
Yes (64)
Flammable
No
Compostable
No
ID
scabyst_ore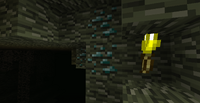 Scabyst Ore is an ore that spawns uncommonly underground in the Lake Cavern layer, within Pitstone.
Collection
Edit
Scabyst Ore drops 1-3 Scabyst and 4-10 experience when harvested. Scabyst is very useful for preventing Corrosion on equipment.
Scabyst Ore itself must be harvested with a Silk Touch tool to be collected.