Sap Tree Log

Transparency
No
Luminance
No
Blast Resistance
10.0
Tool
Hand or Axe
Renewable
Yes
Stackable
Yes (64)
Flammable
No
Compostable
No
ID
log_sap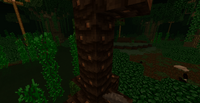 Sap Tree Logs are the log block of Sap Trees. They have a normal rotatable variant and a variant with bark on all sides.
Collection
Edit
When harvested normally, Sap Tree Logs drop 1-2 Balls of Sap, an item that is extremely important to survival for its ability to restore decay.
Sap Tree Logs themselves must be harvested with a Silk Touch tool to be collected.
Either variant of Sap Tree Log can be used as fuel for the Sulfur Furnace or Dual Sulfur Furnace, smelting 1.5 items per log.
Placed Sap Tree Logs will take on an alternative texture during the Spook seasonal event.
| Result | Ingredients | Recipe |
| --- | --- | --- |
| Corresponding Sap Tree Log (4) | Matching Sap Tree Log (4) | |
Release 3.3.0: Made full bark variant obtainable.
Beta 1.0.0: Introduced.