Rotten Bark

Transparency
No
Luminance
No
Blast Resistance
10.0
Tool
Hand or Axe
Renewable
No
Stackable
Yes (64)
Flammable
No
Compostable
Yes
ID
log_rotten_bark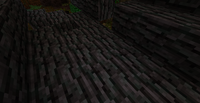 Rotten Bark is the wood block of Giant Hollow Logs and the outside layer block of Rotten Weedwood Trees. It can also be found in Sludge Plains Ruins.
Termites
Edit
When harvested, Rotten Bark has a chance to spawn a large Termite, which will proceed to attack the nearest player.
Rotten Bark can be used as fuel for the Sulfur Furnace or Dual Sulfur Furnace, smelting 1.5 items per bark block.
Compostability
Edit
Rotten Bark has a compost process time of 10 minutes and a compost amount of 25. Visit the Compost page for more information regarding the composting mechanic.
Beta 2.0.0: Renamed to Rotten Bark.
Beta 1.0.0: Introduced as Rotten Weedwood Bark.