Not to be confused with the Giant Root, a natural structure, or Giant Root (block)s, the full block form of these smaller blocks.
Root

Transparency
Yes
Luminance
No
Blast Resistance
30.0
500.0 (Underwater)
Tool
Hand or Axe
Renewable
No
Stackable
Yes (64)
Flammable
No
Compostable
Yes
ID
root
root_underwater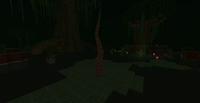 Roots are unique twisting wood blocks that generate in the water in Coarse Islands biomes and on land in Sludge Plains biomes. They can also be found on Giant Roots, and in Cragrock Towers and the Wight Fortress.
Placement
Edit
Placed Roots connect vertically with each other, forming elongated Root "strands" that grow smaller the further they are to the tip.
Collection
Edit
When harvested normally, Roots drop a Tangled Root, which can then be consumed or ground into Ground Tangled Roots.
Roots themselves cannot be collected.
Roots can be used as fuel for the Sulfur Furnace or Dual Sulfur Furnace, smelting 1.5 items per root block.
Compostability
Edit
Roots have a compost process time of 10 minutes and a compost amount of 20. Visit the Compost page for more information regarding the composting mechanic.
Placed Roots will take on an alternative texture during the Spook seasonal event.
Release 3.3.0: Now generate on Giant Roots.
Beta 1.0.0: Introduced.