Ring of Summoning

Type
Other
Speed
N/A
Damage
3 ()
Durability
256
Renewable
No
Stackable
No
Compostable
No
ID
ring_of_summoning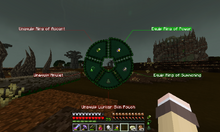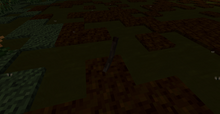 The Ring of Summoning is a powerful item that summons allies from the depths. It is the reward for defeating the Dreadful Peat Mummy.
How to Equip
Edit
The Ring of Summoning can be right-clicked to equip it onto the player in an invisible slot beside the hotbar. Note that only two rings can be equipped at a time.
The Ring of Summoning is equipped through the Radial Equipment Menu, which is opened by pressing C (by default). It displays any ring equipped onto the player (in red tab) as well as rings in their inventory (in green tab). A ring can be both equipped and unequipped with a left click, allowing for easy management of ring equipping.
When equipped, the Ring of Summoning will provide the player with the ability to 'scream' like a Peat Mummy by pressing a hotkey (R by default), shaking the screen and summoning miniature Peat Mummy arms from the ground underneath nearby hostile mobs. These arms will constantly deal damage over time to mobs that stand on them and will retract after 15 seconds. Note that the ring has a small cooldown, and when screaming, charge is depleted from the ring; should charge be fully depleted, the ability will cease to function.
The Ring of Summoning must be charged when depleted to reuse. This can be done by right-clicking the ring, and it will consume the player's experience to recharge the ring to full power, the amount of experience consumed depending on the amount of the ring's charge that needs to be replenished.