Ring of Recruitment

Type
Other
Renewable
No
Stackable
No
Compostable
No
ID
ring_of_recruitment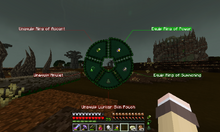 The Ring of Recruitment is a powerful item that can bring mobs under the player's control. It is the reward for defeating the Primordial Malevolence.
How to Equip
Edit
The Ring of Recruitment can be right-clicked to equip it onto the player in an invisible slot beside the hotbar. Note that only two rings can be equipped at a time.
The Ring of Recruitment is equipped through the Radial Equipment Menu, which is opened by pressing C (by default). It displays any ring equipped onto the player (in red tab) as well as rings in their inventory (in green tab). A ring can be both equipped and unequipped with a left click, allowing for easy management of ring equipping.
When equipped, the Ring of Recruitment will provide the player with the ability to recruit most mobs they come across, including passive mobs. This can be done by holding right-click on the mob with an empty hand for a certain amount of seconds (depending on the mob's danger level), using special particles that transfer to the mob. While recruiting, the player's movement speed is significantly reduced, and they will be unable to defend themselves. When recruited, the mob will be bathed in a teal color and be linked to the player by an energy tether. Multiple mobs may be recruited at one time.
Recruited mobs can be ordered to move to a specific location by right-clicking that location with an empty hand, producing a particle effect when the location is successfully chosen. They will also fight by the player's side if they have any attack capability, using their own attacks against non-recruited enemies that are attacked by the player. They can be unrecruited by shift right-clicking them with an empty hand.
While the ring has mobs recruited, experience is drained from the player. The more mobs that are recruited, the faster experience is drained. Should experience be fully depleted, any recruited mobs will no longer be recruited and originally hostile mobs will proceed to attack the player again.
Alpha 3.0.0: Effect visuals improved.
Beta 2.0.0: Now allows the player to order mobs around.
Beta 1.0.0: Introduced.