Ring of Power

Type
Other
Speed
N/A
Damage
N/A
Durability
1800
Renewable
No
Stackable
No
Compostable
No
ID
ring_of_power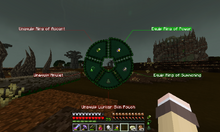 The Ring of Power is a unique item that increases damage output, which can be found as treasure from animating Item Scrolls. It can also be found as Loot from chests in Shrines, Cragrock Towers, and the Wight Fortress.
How to Equip
Edit
The Ring of Power can be right-clicked to equip it onto the player in an invisible slot beside the hotbar. Note that only two rings can be equipped at a time.
The Ring of Power is equipped through the Radial Equipment Menu, which is opened by pressing C (by default). It displays any ring equipped onto the player (in red tab) as well as rings in their inventory (in green tab). A ring can be both equipped and unequipped with a left click, allowing for easy management of ring equipping.
When equipped, the Ring of Power will give an additional 50% boost to the player's damage output. While active, the ring will receive an enchantment glow, and an additional green flame particle effect will be added to the player's melee attacks.
The Ring of Power's charge will drain while it is active, and it will run out after about half an hour of being active. The ring's charge can be replenished by right-clicking the ring, consuming the player's experience to recharge the ring to full power. The amount of experience consumed depends on the amount of the ring's charge that needs to be replenished. Charge cannot be replenished through an Animator.