Ring of Ascent

Type
Other
Renewable
No
Stackable
No
Compostable
No
ID
ring_of_flight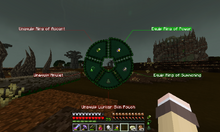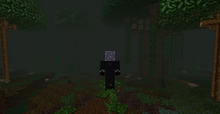 The Ring of Ascent is a unique item that provides limited flight, which can be found as Loot from chests in Shrines, Cragrock Towers, and the Wight Fortress.
How to Equip
Edit
The Ring of Ascent can be right-clicked to equip it onto the player in an invisible slot beside the hotbar. Note that only two rings can be equipped at a time.
The Ring of Ascent is equipped through the Radial Equipment Menu, which can be opened by pressing C (by default). It displays any ring equipped onto the player (in red tab) as well as rings in their inventory (in green tab). A ring can be both equipped and unequipped with a left click, allowing for easy management of ring equipping.
When equipped, the Ring of Ascent allows the player to hover a maximum of about two to four blocks above a block surface and fly around at a moderate speed. Flying mode can be toggled by double-tapping the space bar, and will automatically deactivate if the player descends to the ground.
While flying, the player can hold shift to descend and hold jump to ascend as far as is possible with the ring. Hovering higher than the maximum height over a block will cause the player to fall back to the maximum height, but fall damage will be negated and falling speed is slowed. While flying, the ring will receive an enchantment glow, and a small tornado of leaves will swirl below the player's feet as an added visual effect.
The Ring of Ascent has a small experience cost upon activation, and drains the player's experience level over time while in flight mode. It will cease to work after consuming all of their experience.
Release 3.3.2: Now has a small experience cost upon activation.
Release 3.3.1: Flight mode is now automatically disabled while riding an entity.
Beta 1.0.0: Introduced.