Puddle

Transparency
Yes
Luminance
No
Blast Resistance
0.0
Tool
N/A
Renewable
No
Stackable
Yes (64)
Flammable
No
Compostable
No
ID
puddle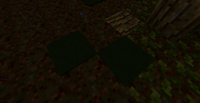 Puddles are thin blocks of water that generate on opaque blocks that are exposed to the sky during the Heavy Rain event.
Coloration
Edit
Puddles take on different water colors depending on what biome they are located in.
Movement
Edit
Puddles can be walked through by players and mobs, without any penalties.
Spread and Dissipation
Edit
Puddles will spread to nearby opaque blocks while the Heavy Rain event is ongoing, including those not exposed to the sky. When the rain event is no longer occurring, they will disappear slowly over time.
Through both their initial generation and spread, Puddles are capable of destroying planted crops. This makes the sheltering and enclosure of farms crucial.
Collection
Edit
Puddles cannot be harvested or collected in any way.