Peat Mummy

Health
110 (x55)
Damage
Easy: 4 ()

Easy (while charging): 9 () Normal: 6 () Normal (while charging): 12 () Hard: 9 () Hard (while charging): 18 (x9)

Drops
Shimmerstone on death
First Appearance
Beta 1.0.0
Not to be confused with the Dreadful Peat Mummy, the bigger and badder brother of this monster.
"...and here you have your peat mummy, a vicious creature of pure malice that can send the most adventurous of ye' back into your scrawny holes."
-From Mutants of Terror
Peat Mummies are undead mobs native to the betweenlands. They spawn in Marsh and Sludge Plains biomes, and spawn with a heavily increased rate during Blood Sky. They are also occasionally summoned by the Dreadful Peat Mummy, with a lower health value. 
Description
Edit
Peat Mummies are mummified, bloody skeletons on four legs. They spawn submerged within Mud or Peat that is at least 3x3x2 blocks. When a player comes within six blocks, it will rise out of the mud and proceed to attack, crawling on all fours. It deals basic melee damage and crawls slowly, but on occasion it will emit a deafening scream, causing the screen to shake, and for a few seconds afterwards their movement speed will be heavily increased and they will charge at the player, dealing more damage than before. When damaged they take no knockback.
Strategy
Edit
Peat Mummies are very difficult mobs to face and always strike suddenly. First of all, if you are unprepared to fight against them (you should have mid-tier weapons and armour at the very least), RUN if you see one, no matter how far away it may seem to be; for if it starts charging it can quickly and easily catch up to you from any distance. When fighting them, ranged attacks with a weedwood bow are good, especially if you use Basilisk Arrows to freeze the mummy in place; but melee attacks, while riskier, can dish out more amounts of damage per second. You can also use Shimmerstones if you have already killed some to distract them. Just be careful to get away from the mummy whenever it screams to signify it is going to charge, for the damage it can deal when doing so can kill even the most well-equipped players.
PeatMummyCharge:
An animation by Timinations depicting an encounter with a Peat Mummy: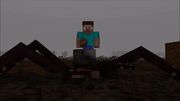 Beta 1.0.3: Fixed Peat Mummies attacking when rising out of the ground.
Beta 1.0.0: Introduced.