Mud

Transparency
No
Luminance
No
Blast Resistance
0
Tool
Hand/Shovel
Renewable
No
Stackable
Yes (64)
Flammable
No
Compostable
No
ID
mud
Mud is a block that generates at the bottom of the water in the Betweenlands as well as on the surface of Marsh and Sludge Plains biomes in large quantities and in smaller patches on the surface of the Swamplands biome. When stood on, the player will sink slightly into the block, slowing them down and preventing them from jumping. The effects of mud sinking can be completely negated by wearing Rubber Boots; in Creative Mode players can easily get out.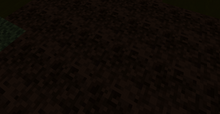 Smelt Mud = Mud Brick (item)
Beta 2.0.0: No longer sinks the player fully.
Beta 1.0.0: Introduced.