Moss Bed

Transparency
No
Luminance
No
Blast Resistance
1.0
Tool
None
Renewable
Yes
Stackable
Yes (64)
Flammable
No
Compostable
No
ID
moss_bed
moss_bed_item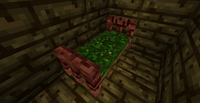 The Moss Bed is a double-length utility block that acts as an alternative to the vanilla Bed for The Betweenlands.
Setting Spawn
Edit
When placed in The Betweenlands, the Moss Bed can be right-clicked to set the player's spawn point for the dimension to their current location. However, the bed cannot be used to actually sleep and skip the "night" of the Betweenlands.
Other Dimensions
Edit
If placed in The Overworld, the Moss Bed acts exactly like a regular Bed, allowing one to skip night as well as stop rain in addition to setting their spawn point.
If placed in The Nether or The End, the Moss Bed will explode into flames when a player attempts to use it, like a regular Bed would.
Beta 1.0.1: Can now be crafted with the block forms of moss.
Beta 1.0.0: Introduced.