Not to be confused with Cave Moss, a similar plant that grows down from the ceiling.
Moss

Transparency
No
Luminance
No
Blast Resistance
1.0
Tool
Hand or Axe
Renewable
Yes
Stackable
Yes (64)
Flammable
No
Compostable
Yes
ID
moss
items_plant_drop/30
items_crushed/38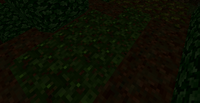 Moss is a thin plant block that generates in patches in Swamplands and Patchy Islands biomes, as well as underground in Caverns and Lake Caverns and on Idol Head Statues.
Coloration
Edit
Moss takes on different foliage colors depending on what biome it is located in.
Growth and Decay
Edit
Moss naturally goes through cycles of growth, spreading to nearby blocks slowly over time and eventually dying out.
Collection
Edit
Moss must be harvested with Syrmorite Shears to be collected. When harvested with a Sickle, it instead drops a Moss (item), which can then be ground into Ground Moss.
Compostability
Edit
Moss has a compost process time of 7 minutes and 30 seconds and a compost amount of 6. Visit the Compost page for more information regarding the composting mechanic.
Igniting
Edit
Moss can be used to create fire by holding right-click on either its placed or dropped form with an Octine Ingot. Moss that is adjacent to or on a Block of Octine will also catch fire, although this fire will not spread to further Moss blocks.
Placed Moss will take on alternative textures during the Spook and Winter seasonal events.
Release 3.3.0:

Now has biome coloration.
Is now burned by Blocks of Octine.

Alpha 3.1.0: Now has an alternative texture for the Winter event.
Beta 2.0.0: Can now be found anywhere in Caverns and Lake Caverns underground and on Idol Head Statues.
Beta 1.0.0: Introduced.