Mortar

Transparency
No
Luminance
No
Blast Resistance
Tool
Any Pickaxe
Renewable
No
Stackable
Yes (64)
Flammable
No
Compostable
No
ID
Mortar is a utility block that is capable of grinding specific materials into new and useful items.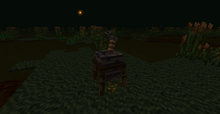 5 Cragrock + 2 Weedwood Sticks = 1 Mortar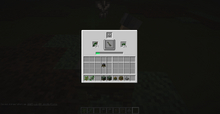 For a Mortar to function, it must be equipped with a Pestle. You can equip it by simply right-clicking on the Mortar with the Pestle. You can then shift-right click to open the GUI. Do note that the Pestle has limited durability and will have to be replaced after breaking.
The Mortar's operation can be used in two ways. It can manually grind items by placing the item you want to grind in the left slot and right-clicking the Mortar, using the Pestle inside to grind one item per click. The process can be automated by placing a Life Crystal in the top slot in addition; it will then 'animate' the Pestle which will grind as many items as are put in the Mortar on its own as long as the Life Crystal has enough charge and the Pestle does not break. Each item ground will consume 0-1% of the crystal's charge, meaning a fully charged life crystal can grind a total of two stacks. After a few seconds, the resulting item can be collected from the right slot. A grinding sound will play during the process.
You can add your own Mortar GUI recipes in the recipes.json in the config.
Mortar GUI Recipes
Edit
Grind: