Lurker Skin Pouch

Type
Other
Renewable
Yes
Stackable
No
Compostable
No
ID
lurker_skin_pouch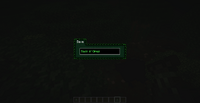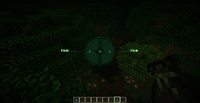 The Lurker Skin Pouch is a special item that provides portable storage for the player.
How to Use
Edit
The Lurker Skin Pouch can be opened by right-clicking on the item or with a hotkey (G by default, prioritizes any equipped pouch first). It provides additional inventory slots with which one can store items inside like a chest and open again when needed; only, it is stored in an item you can carry around.
When first crafted, Lurker Skin Pouches have only 9 item slots. However, they can be upgraded up to three times, each time adding an additional 9 slots to the pouch's storage, up to a maximum possible 36 item slots. This can be done by surrounding the Lurker Skin Pouch with more Lurker Skin through crafting. Note that 'nested storage' is not possible; that is, you cannot put one pouch inside another to exploit infinite storage.
| Result | Ingredients | Recipe |
| --- | --- | --- |
| Upgrades Lurker Skin Pouch with 9 extra slots | Lurker Skin Pouch + Lurker Skin (8) | |
When sneak-right clicked, the pouch will open a GUI where a custom name for the pouch can be input and saved. This makes it easy for one to organize their pouches based on what items they mean to put inside.
The Lurker Skin Pouch can optionally be equipped using the Radial Equipment Menu, which is opened by pressing C (by default). It displays any pouch equipped onto the player (in red tab) as well as pouches in their inventory (in green tab). A pouch can be both equipped and unequipped with a left click, allowing for easy management of pouch equipping. Equipped pouches appear in an invisible slot beside the hotbar and can still be directly accessed with the G hotkey. However, note that only one pouch can be equipped at a time.