Lurker Skin Armor

Type
Equipment
Armor Toughness
0
Armor
Helmet: 1 ()
Chestplate: 3
()
Leggings: 2 ()
Boots: 1 ()
Durability
Helmet: 132
Chestplate: 192
Leggings: 180
Boots: 156
Renewable
Yes
Stackable
No
Compostable
No
ID
lurker_skin
_helmet
lurker_skin
_chestplate
lurker_skin
_leggings
lurker_skin
_boots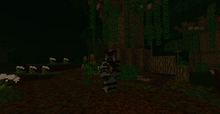 Lurker Skin Armor is a basic armor set.
A full set of Lurker Skin Armor provides 7 armor points, or 3.5 armor icons, and absorbs 28% of damage from the player at the expense of durability. Wearing full Lurker Skin Armor will also provide many underwater bonuses: increased movement speed in water, decreased rate at which breath goes down, the ability to 'float' at one elevation in water, and slightly increased underwater mining speed.
Repairing
Edit
Like most other equipment with durability, any damaged piece of Lurker Skin Armor can be repaired to full durability through an Animator. The more that needs to be repaired, the greater the cost of fuel and crystal charge is in the animation process.
Middle Gems
Edit
As with most equipment, all pieces of Lurker Skin Armor can be equipped with Middle Gems as part of the Middle Gem Circle to apply additional buffs to the player wearing them. The type of gem equipped can be seen visibly on the armor as well as in its tooltip. The bonuses provided can be seen on the gem's own tooltip.
| Result | Ingredients | Recipe |
| --- | --- | --- |
| Fully repairs corresponding Lurker Skin Armor piece | Any damaged Lurker Skin Armor piece + Sulfur (5-10) + Life Crystal (4-13% charge) | |
Alpha 3.2.0: Can now be fully repaired in an Animator.
Beta 1.0.0: Introduced.