Lurker

Health
55 (x27.5)
Damage
Easy: 3 ()
Drops
Lurker Skin on death
First Appearance
Beta 1.0.0
Lurkers are neutral mobs that spawn in Coarse Islands, Patchy Islands, and Deep Waters.
Description
Edit
Lurkers appear as large, crocodile-like reptiles with flippers and fins, as well as wounded bodies. They spawn in water bodies and swim gracefully, but will wade onto land if necessary in order to chase the player. They will not attack unless provoked, in which this point, all nearby Lurkers will come and aid that provoked Lurker. They will also prey on Anglers and Dragonflies, often leaping out of the water when hunting the latter. When damaged they take no knockback.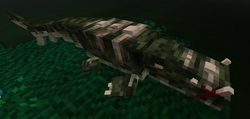 | | | |
| --- | --- | --- |
| LurkerDeath: | | |
| LurkerHurt1: | LurkerHurt2: | |
| LurkerHurt3: | LurkerHurt4: | |
| LurkerLiving1: | LurkerLiving2: | LurkerLiving3: |
| LurkerLiving4: | LurkerLiving5: | |