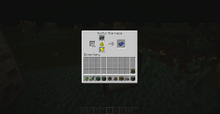 Limestone Flux is a unique item that can be used to increase the output of smelting Octine Ore and Syrmorite Ore. The flux is placed in the additional far left slot/s of the Sulfur Furnace or Dual Sulfur Furnace. Each smelt will consume one flux in this slot and will give the ore a small chance to yield two corresponding ingots rather than just one. Keep in mind that it only works with smelting these ores, not anything else.
Grind Limestone/Polished Limestone = Limestone Flux
Beta 2.0.3: Recipe using Chiseled Limestone removed.
Beta 1.0.0: Introduced.
Ad blocker interference detected!
Wikia is a free-to-use site that makes money from advertising. We have a modified experience for viewers using ad blockers

Wikia is not accessible if you've made further modifications. Remove the custom ad blocker rule(s) and the page will load as expected.