Limestone Flux

Type
Other
Renewable
No
Stackable
Yes (64)
Compostable
No
ID
items_misc/27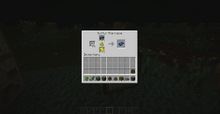 Limestone Flux is a unique item that can be used to increase the output of smelting ores.
Ore Smelting
Edit
Limestone Flux can be placed in the additional far left slot/s of a Sulfur Furnace or Dual Sulfur Furnace. Each smelt of Octine Ore or Syrmorite Ore in the furnace consumes one flux and gives the ore a small chance to yield two ingots rather than just one. Keep in mind that it only works with smelting these ores, not anything else.
Release 3.3.6: Output amount increased from 1 to 3.
Beta 2.0.3: Recipe using Chiseled Limestone removed.
Beta 1.0.0: Introduced.