Lichen

Transparency
Yes
Luminance
No
Blast Resistance
1.0
Tool
Hand or Axe
Renewable
Yes
Stackable
Yes (64)
Flammable
No
Compostable
Yes
ID
lichen
items_plant_drop/17
items_crushed/34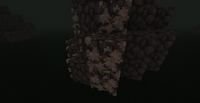 Lichen is a thin plant-like block that generates on Cragrock Spires in Deep Waters biomes, as well as underground in Caverns and Lake Caverns and on Idol Head Statues.
Growth and Decay
Edit
Lichen naturally goes through cycles of growth, spreading to nearby blocks slowly over time and eventually dying out.
Collection
Edit
Lichen must be harvested with Syrmorite Shears to be collected. When harvested with a Sickle, it instead drops a Lichen Clump, which can then be ground into Ground Lichen.
Compostability
Edit
Lichen has a compost process time of 7 minutes and 30 seconds and a compost amount of 6. Visit the Compost page for more information regarding the composting mechanic.
Beta 2.0.0: Can now be found anywhere in Caverns and Lake Caverns underground and on Idol Head Statues.
Beta 1.0.0: Introduced.