Hanger

Transparency
No
Luminance
No
Blast Resistance
0
Tool
None
Renewable
Yes
Stackable
Yes (64)
Flammable
No
Compostable
Yes
ID
hanger
items_plant_drop/32
items_crushed/33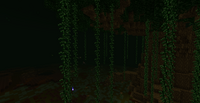 Hangers are a vine-like plant that hangs off of the canopy of Giant Weedwood Trees, as well as from the underside of Giant Roots and the roofs of Caverns. There are two variations - A normal Hanger, and a Seeded Hanger that can only be found on Giant Weedwood Trees.
Hangers naturally grow down from blocks like Vines.
Collection
Edit
Normal Hangers must be harvested with Syrmorite Shears to be collected. When harvested with a Sickle, they instead drop a Hanger (item), which can then be ground into Ground Hanger.
Seeded Hangers are unique in that they drop White Pear Seeds when harvested normally, which can be grown into an edible crop. Otherwise, however, they have the same drops as regular Hangers, including when sheared. Seeded Hangers themselves can only be collected with a Silk Touch tool.
Placed Hangers and Seeded Hangers will take on alternative textures during the Spook and Winter seasonal events.
Alpha 3.2.0:

Added Seeded Hanger variation.
Hangers now generate in Caverns.

Alpha 3.1.0: Now has an alternative texture for the Winter event.
Beta 1.0.0: Introduced.