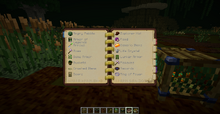 Guide Book will be a special ingame manual for the content in the Betweenlands, but is not yet implemented.
When opened with a right-click, the Guide Book will contain many pages containing information about the mod, with seven side tabs to navigate them. Pressing a tab will move it to the opposite side of the book and take the viewer to the corresponding section. One can also scroll back and forth to turn the pages, and press Backspace to turn to the previous page.
The first tab section contains a general list of most blocks and items in the mod (this tab is highly subject to change). Clicking the block or item will take you to its full page, containing a brief description and recipes.
The second tab section will take you to the utility block section of the manual, containing information on how to use the various GUI station blocks in the mod.
The third tab section contains a list of mobs in the mod, with separate pages for each.
The rest of the pages are currently unimplemented.
While this book is a handy ingame guide for the Betweenlands, the most detailed information is found on this wiki.
Ad blocker interference detected!
Wikia is a free-to-use site that makes money from advertising. We have a modified experience for viewers using ad blockers

Wikia is not accessible if you've made further modifications. Remove the custom ad blocker rule(s) and the page will load as expected.