Fences

Transparency
No
Luminance
No
Blast Resistance
0
Tool
Hand/Axe
Renewable
Yes
Stackable
Yes (64)
Flammable
No
Compostable
No
ID
The Betweenlands mod adds a few types of fences into the game. They are crafted similarly and function the same way as vanilla fences as being blocks that cannot be jumped over.
Rubber Tree Plank Fences can be used as poles for Aspectrus Plants to grow on.
Rubber Tree Plank Fence
Weedwood Log Fence
Weedwood Plank Fence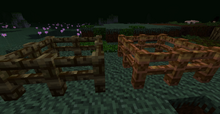 4 base material + 2 Weedwood Sticks = 3 fences
Beta 2.0.1: Implemented recipe for Weedwood Log Fences.
Beta 2.0.0: Added unobtainable Weedwood Log Fences.
Beta 1.0.0: Introduced.