Fallen Leaves

Transparency
Yes
Luminance
No
Blast Resistance
0.5
Tool
Hand or Axe
Renewable
No
Stackable
Yes (64)
Flammable
No
Compostable
Yes
ID
fallen_leaves
items_plant_drop/0
items_crushed/0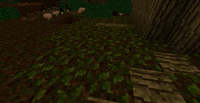 Fallen Leaves are thin plant-like blocks that generate underneath trees in Swamplands biomes.
Collection
Edit
Fallen Leaves must be harvested with Syrmorite Shears to be collected. When harvested with a Sickle, they instead drop a Leaf, which can then be ground into Ground Leaf.
Compostability
Edit
Fallen Leaves have a compost process time of 9 minutes and 10 seconds and a compost amount of 4. Visit the Compost page for more information regarding the composting mechanic.
Placed Fallen Leaves will take on an alternative texture during the Winter seasonal event.
Alpha 3.1.0: Now have an alternative texture for the Winter event.
Beta 1.0.0: Introduced.