Not to be confused with Dug Purified Swamp Grass, the purified form of this block.
Dug Swamp Grass

Transparency
No
Luminance
No
Blast Resistance
2.5
Tool
Hand or Shovel
Renewable
No
Stackable
Yes (64)
Flammable
No
Compostable
No
ID
dug_swamp_grass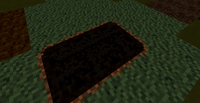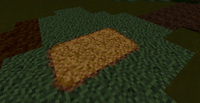 Dug Swamp Grass is a grass cover block created by right-clicking on the top of Swamp Grass with a Betweenlands shovel. It is primarily used in Farming.
Coloration
Edit
Dug Swamp Grass takes on different foliage colors depending on what biome it is located in.
Composting
Edit
Right-clicking on Dug Swamp Grass with Compost will fill the hole in the grass with compost, allowing crops to be planted on it and plants to grow on it.
Plant Support
Edit
Dug Swamp Grass supports the placement and growth of basic plants.
When composted, Dug Swamp Grass supports the growth of White Pear Plants by planting White Pear Seeds, Yellow Dotted Fungus by planting Spores, and Aspectrus Plants by planting Aspectrus Seeds on a Rubber Tree Plank Fence on top of it.
Composted Dug Swamp Grass also allows basic plants placed on it to grow to other plant-supporting blocks adjacent to the composted block.
Note that the compost inside the Dug Swamp Grass will be depleted after enough crop or plant harvests from it.
Dug Swamp Grass that is not composted will eventually revert to regular Swamp Grass if it is left unfilled.
Composted Dug Swamp Grass has a random chance to become decayed. The decay will spread to other nearby non-purified composted blocks and halt the growth of any plants growing on them. Any mature crops growing on them will eventually decay as well, causing them to drop nothing but seeds.
Decay can be temporarily cured by right-clicking the affected Dug Swamp Grass with Plant Tonic. One Plant Tonic is capable of curing a five-by-five area of composted blocks.
Growth and Death
Edit
Dug Swamp Grass will grow to nearby Dug Swamp Dirt over time. It can also grow to Swamp Dirt and Dug Purified Swamp Dirt, turning them into Swamp Grass and Dug Purified Swamp Grass respectively.
Dug Swamp Grass will eventually become Dug Swamp Dirt if a solid block is placed directly on top of it.
Collection
Edit
Dug Swamp Grass drops Swamp Dirt when harvested. The blocks themselves cannot be collected.
Beta 2.0.0:

Now takes on different colors in different biomes.
Can now be used to farm basic plants.
Can now spread grass to nearby swamp dirt blocks.

Beta 1.0.0: Introduced.