Doors

Transparency
No
Luminance
No
Blast Resistance
15.0 (Wooden)
30.0 (Syrmorite)
Tool
Wooden: Hand or Axe
Syrmorite: Any Pickaxe
Renewable
Yes (except
Syrmorite Door)
Stackable
Yes (64)
Flammable
No
Compostable
No
ID
weedwood_door_item
rubber_tree_plank
_door_item
giant_root_plank
_door_item
syrmorite_door_item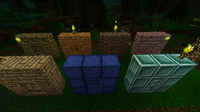 Doors in the Betweenlands act functionally the same as vanilla doors.
This is the list of Doors available and how they can be opened:
Release 3.3.0:

Added Giant Root Plank Door.
Updated Rubber Tree Plank Door textures.

Beta 2.0.3: Recipes now craft 3 doors.
Beta 1.0.0: Introduced.