Dentrothyst Shields

Type
Equipment
Speed
N/A
Damage
N/A
Durability
1200
Renewable
No
Stackable
No
Compostable
No
ID
dentrothyst_shield
_green
dentrothyst_shield
_green_polished
dentrothyst_shield
_orange
dentrothyst_shield
_orange_polished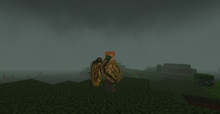 Dentrothyst Shields are special Betweenlands shields. There are four varieties: Green, Green Polished, Orange, and Orange Polished.
Blocking
Edit
Like any shield, Dentrothyst Shields can be held up to block melee and ranged attacks from the front. They can be temporarily disabled by an axe attack.
Dentrothyst Shields have the unique ability to prevent the player from receiving effects from splash potions while blocking, including those from thrown Infusions.
Repairing
Edit
Like most other equipment with durability, a damaged Dentrothyst Shield can be repaired to full durability through an Animator. The more that needs to be repaired, the greater the cost of fuel and crystal charge is in the animation process.
| Result | Ingredients | Recipe |
| --- | --- | --- |
| Fully repairs corresponding Dentrothyst Shield | Any damaged Dentrothyst Shield + Sulfur (6-10) + Life Crystal (4-13% charge) | |
Corrosion & Middle Gems
Edit
Dentrothyst Shields do not corrode, nor can they be applied with Middle Gems.