Not to be confused with Mire Coral, a similar coral that is more orange.
Deep Water Coral

Transparency
Yes
Luminance
Yes
Blast Resistance
500.0
Tool
None
Renewable
No
Stackable
Yes (64)
Flammable
No
Compostable
Yes
ID
deep_water_coral
items_plant_drop/6
items_crushed/29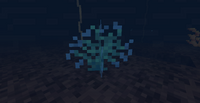 Deep Water Coral is a coral that generates in the water in Deep Waters biomes.
Collection
Edit
Deep Water Coral must be harvested with Syrmorite Shears to be collected. When harvested with a Sickle, it instead drops a Deep Water Coral (item), which can then be ground into Ground Deep Water Coral.
Compostability
Edit
Deep Water Coral has a compost process time of 7 minutes and 30 seconds and a compost amount of 6. Visit the Compost page for more information regarding the composting mechanic.