Dead Grass

Transparency
No
Luminance
No
Blast Resistance
2.5
Tool
Hand or Shovel
Renewable
No
Stackable
Yes (64)
Flammable
No
Compostable
No
ID
dead_grass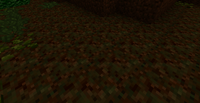 Dead Grass is a cover block that generates in large quantities on the surface of Swamplands biomes.
Plant Support
Edit
Dead Grass supports the placement and growth of basic plants.
Growth and Death
Edit
Unlike regular Swamp Grass, Dead Grass does not grow to nearby Swamp Dirt. However, it will eventually become Swamp Dirt if a solid block is placed directly on top of it.
Collection
Edit
Dead Grass drops Swamp Dirt when harvested. The blocks themselves must be harvested with a Silk Touch tool to be collected.
Placed Dead Grass will take on an alternative texture during the Winter seasonal event.
Alpha 3.1.0: Now has an alternative texture for the Winter event.
Beta 1.0.0: Introduced.