Dark Druid Altar

Transparency
Yes
Luminance
No
Blast Resistance
300.0
Tool
None
Renewable
No
Stackable
Yes (64)
Flammable
No
Compostable
No
ID
druid_altar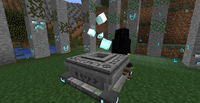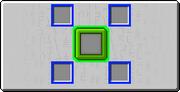 The Dark Druid Altar is a utility block that generates at the center of Druid Circles. It assembles four items together, primarily to create the Swamp Talisman needed to access The Betweenlands.
How to Use
Edit
The assembly interface can be accessed by right-clicking the Dark Druid Altar.
Assembling the Swamp Talisman requires four Swamp Talisman Pieces, which are placed in the four corner slots of the interface. Each piece must be a different type, or else the assembly process will not function.
Once these requirements are met, all nearby Dark Druids from the Druid Circle will die. The Dark Druid Altar will then perform an animation levitating the four pieces of the talisman together into the whole Swamp Talisman. During the animation, the surrounding Rune Stone of the Druid Circle will flash white, and runes will slowly float from them to the assembling pieces. A special altar sound will also play.
Once assembly is complete, the Dark Druid Monster Spawner underneath the Altar will be destroyed. The assembled Swamp Talisman can then be retrieved from the middle slot of the assembly interface.
You can add your own assembly recipes in the recipes.json in the config.
Reactivating the Druid Spawner
Edit
The Dark Druid Altar can be used to recreate the Monster Spawner of the Druid Circle that was spawning Dark Druids before the Swamp Talisman was assembled, in case they want to fight the Druids again for more Talisman Pieces. To do so, simply place four Saplings of any variety in the four corner slots of the assembly interface. The saplings will float up in the usual assembly animation, and once they come together, the spawner will be recreated.
Indestructibility
Edit
The Dark Druid Altar cannot be broken, moved, or collected in any way by players in Survival Mode, nor can it be destroyed by explosions.
druid_chant: