Dark Druid Altar



| | |
| --- | --- |
| | |
| Physics | No |
| Transparency | No |
| Luminance | No |
| Compostable | No |
| Tool | Unbreakable |
| Stackable | Yes (64) |
| Flammable | No |
| First Appearance | Beta 1.0.0 |
Dark Druid Altar is a block that is always found at the center of a Druid Circle. It has a unique GUI which allows you to combine the four Swamp Talisman pieces in four corner spaces. After doing so the Altar will perform an animation showing the pieces being combined to form the Swamp Talisman, which can then be obtained in the middle space of the GUI. During this animation, the surrounding Rune Stone of the circle flashes.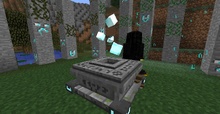 You can add your own Dark Druid Altar GUI recipes in the recipes.json in the
config
.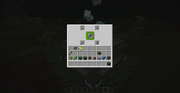 Altar:
Ad blocker interference detected!
Wikia is a free-to-use site that makes money from advertising. We have a modified experience for viewers using ad blockers

Wikia is not accessible if you've made further modifications. Remove the custom ad blocker rule(s) and the page will load as expected.