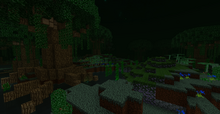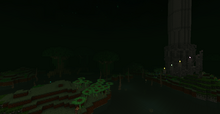 Coarse Islands are characterized by many small islands that rise high above large bodies of water. The water is a slightly bluer tinge here.
As of 1.12, the Coarse Islands have had a major rework. The Coarse Islands are now composed of giant, narrow, landmasses which intertwine within each other, and resemble large overgrown roots.
Composition
Edit
In addition to Fire Flies, Wights, and rarely Chiromaws as usual, Dragonflies, Geckos, Frogs, and Swamp Hags can spawn here, and Anglers and Lurkers in the water.
Structures
Edit
Swamp Waters surround the biome's islands. Both small and large Weedwood Trees and the occasional Sap Tree can spawn here. Rarely, Cragrock Towers can generate here.