Climbing Rope

Transparency
No
Luminance
No
Blast Resistance
2.5
Tool
None
Renewable
Yes
Stackable
Yes (64)
Flammable
No
Compostable
No
ID
rope
rope_item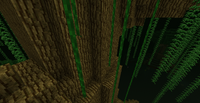 Climbing Rope is a utility block that serves as a method of climbing in the Betweenlands.
Climbing
Edit
Climbing Rope can be placed anywhere on a solid block that has no other block directly under it, and will always be placed on the underside of the block. It can then be placed downward and can be climbed like a ladder.
Once placed, additional Climbing Rope from the inventory can be right-clicked onto any placed piece to add additional pieces below it, extending the rope downwards without having to place each piece from directly below the lowest one. This rope can also be retracted and recollected by shift-right clicking on any piece between the first and the last with an empty hand.
Compostability
Edit
Climbing Rope has a compost process time of 4 minutes and 10 seconds and a compost amount of 3. Visit the Compost page for more information regarding the composting mechanic.
Beta 2.0.0:

Renamed to Climbing Rope.
Can now be crafted with Reed Rope.

Beta 1.0.0: Introduced as Tough Climbing Rope.