Chiseled Betweenstone

Transparency
No
Luminance
No
Blast Resistance
30.0
Tool
Any Pickaxe
Renewable
No
Stackable
Yes (64)
Flammable
No
Compostable
No
ID
betweenstone
_chiseled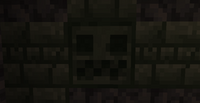 Chiseled Betweenstone is a craftable building block. In addition to being crafted, it can also be found as part of Marsh Ruins and Shrines.
The Chiseled Betweenstone texture depicts the face of a Swamp Hag.
Beta 2.0.1: Renamed back to original name.
Beta 2.0.0: Renamed to Chiseled Betweenstone Bricks.
Beta 1.0.0: Introduced.