Caving Rope

Type
Other
Renewable
No
Stackable
Yes (64)
Compostable
No
ID
caving_rope
Caving Rope
is a unique item that can be used to trace the path a player walks, allowing them to see which way they came from. It is most useful when navigating Caverns so that the player does not become lost.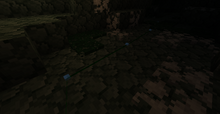 How to Use
Edit
Right-clicking Caving Rope on a block surface will begin the tracing by placing a glowing blue anchor point and linking the player to it with a rope. As the player moves, additional pieces of Caving Rope will be consumed from their inventory and automatically place more anchor points along the player's path as part of the same rope. An indicator will appear next to the player's cursor while they are using the rope, displaying the total number of Caving Rope pieces in the inventory and when each is consumed.
The rope can be disconnected by an obstacle preventing it from pathing properly, by running out of Caving Rope to place, or by manually disconnecting it by right-clicking the last anchor point on the rope (or by pressing the hotkey, V by default). The indicator will become crossed out and a message will display to indicate when the rope has been disconnected. This results in a long stretch of rope dotted with glowing anchor points, functioning as a sort of visible pathway that the player can follow to retrace their steps.
If the player moves backwards along the Caving Rope while still connected to it, they will pick up each anchor point along the way. A disconnected rope has a green anchor point as its last one, and will not be picked up when walked through. It can be reconnected by right-clicking its last anchor point (or by pressing the hotkey when near it, V by default); it can also be retracted by right-clicking any anchor point before that, retracting and recollecting one anchor point per click up to the selected anchor point.
Release 3.3.8:

Recipe changed, and textures changed appropriately.
Added despawn time warning tooltip.

Release 3.3.0: Implemented indicator and a connect/disconnect keybind.
Beta 1.0.5: Now directly added to the inventory when collected.
Beta 1.0.0: Introduced.