Buttons

Transparency
Yes
Luminance
No
Blast Resistance
2.5
Tool
None
Renewable
Weedwood: Yes
Betweenstone: No
Stackable
Yes (64)
Flammable
No
Compostable
No
ID
See Types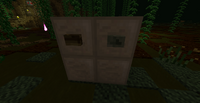 Buttons in the Betweenlands act functionally the same as vanilla buttons.
This is the list of Buttons available, their IDs, and their trigger functionalities:
Buttons
Button
ID
Functionality
Betweenstone Button
betweenstone
_button
Can only be triggered by hand. Active for 1 second.
Weedwood Plank Button
weedwood_plank
_button
Can be triggered by hand or with arrows. Active for 1.5 seconds.