Block of Valonite

Transparency
No
Luminance
No
Blast Resistance
?
Tool
Any Pickaxe
Renewable
No
Stackable
Yes (64)
Flammable
No
Compostable
No
ID
Block of Valonite is a decorative ore storage block with the same purpose as vanilla storage blocks.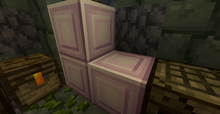 9 Valonite Shards = 1 Block of Valonite
Blocks of Valonite can be found as treasure in the Wight Fortress's secret room...
Beta 2.0.0: Renamed to Block of Valonite.
Beta 1.0.0: Introduced as Valonite Block.